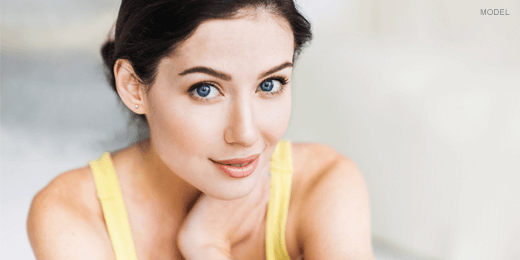 For all the hype around injectable cosmetic treatments, a lot of people don't really understand the difference between BOTOX® and dermal fillers. At my Long Island practice, this is one of the most common questions we get from people looking for nonsurgical facial rejuvenation.
BOTOX — and its lesser-known counterpart, Dysport® — are in a class of products called neuromodulators or neurotoxins, and they work very differently than dermal fillers. Even within the categories of fillers and neurotoxins, there are different products with distinct features.
Let's take a look at those differences and why the appropriate treatment choice — or choices — depends on the patient's concerns and aesthetic goals.
"Aren't all wrinkles the same?"
Not all wrinkles develop in the same way. Aging skin naturally begins to lose its elasticity and volume, creating lines and creases around the mouth and in the midface area. Expression lines — think crow's feet, frown lines, and forehead furrows — are caused by a lifetime of facial muscles contracting when we smile, frown, squint, look surprised, or change our expressions in any number of ways. These are called "dynamic wrinkles" because they're caused by muscle movement.
"So which treatment is right for me?"
As you might guess, that depends on the types of wrinkles that concern you. Fillers such as JUVÉDERM® and Restylane® products are smooth gels made with hyaluronic acid that replace age-related volume loss. They're what we use to smooth nasolabial folds — the "parentheses" or "smile lines" which extend from the nose to the corners of the mouth. They can also fill in under-eye hollows and other lines and depressions caused by age. Some fillers, such as JUVÉDERM VOLUMA®and Restylane Lyft also address the sunken or flattened appearance that cheeks sometimes develop as we age. Fillers like JUVÉDERM VOLBELLA® and Restylane Silk are specifically formulated to add natural-looking volume to the lips.
BOTOX and Dysport, on the other hand, work by temporarily disabling the facial muscles responsible for dynamic wrinkles. They do this by preventing nerves from sending signals to those tiny, specific muscles.
Many people find that the best results come from a combination of BOTOX or Dysport for the eyes and forehead, and dermal fillers, which are great for the mid and lower face.
"How often do I need treatments?"
Results produced by both BOTOX and Dysport last about 4 months, so continuing treatments at that interval can help maintain a more youthful-looking appearance. Some patients find that they can stretch that interval after a period of regularly scheduled treatments, as the effects begin to last longer over time. How long the results of filler injections last depend on the specific product used. Typically, fillers last between 9 and 18 months, although certain products such as VOLUMA are approved by the FDA to last up to 2 years.
What's the difference between BOTOX and Dysport?
BOTOX is one of the most recognizable cosmetic products available, but Dysport is a very similar product. Both are purified forms of botulinum type A and get results that last about the same amount of time. Patients usually notice Dysport starts working a few days faster than BOTOX. Dysport tends to spread to a wider area than BOTOX, which can be beneficial for some treatment areas but not for others. In some cases, it requires more units of Dysport to get the same results produced by less BOTOX.
If you're still unclear about the difference between BOTOX and fillers, contact us here at Romanelli Cosmetic Surgery and we can help you determine which injectables, or combination of treatments, will give you the results you're looking for.