What is a Breast Lift?
Breast lift surgery lifts and tightens the breasts, restoring a youthful, rounded look. The process involves removing loose skin and reshaping the breast tissue to create a more beautiful look to the bust. This surgery is ideal for women who have lost breast shape and volume and who are experiencing sagging, droopy breasts due to aging, genetics, and gravity, as well as weight loss or pregnancy. Considerable advancements in breast lift (mastopexy) surgical techniques have led to the surgery being so successful that statistics from the ASPS (American Society of Plastic Surgeons) report an almost 70% increase in demand since 2000.
Our surgical team:
Dr. Romanelli, Dr. Layliev, and Dr. Low
Long Island plastic surgeons Dr. James Romanelli, Dr. John Layliev, and Dr. Yee Cheng Low perform breast lifts in Long Island with cutting edge, state-of-the-art techniques, and take the ideal approach, reflecting the degree of sagging present and the result you envision. Call our office in Melville, NY, on Long Island to find out more today.
Ideal candidates for a breast lift in Long Island
Some women come to North Shore Cosmetic Surgery believing they need a breast augmentation with implants. After a personal assessment with our surgeon, it may be determined that a breast lift will provide a far more attractive outcome. If your breasts point downward, a breast lift will correct the shape and lift them to a higher, more youthful position. If your nipples point down, and your breasts have stretched, a mastopexy (breast lift) can dramatically improve their appearance. Patients contemplating a breast lift should be in good health and at the right weight. If you want larger breasts, a lift plus augmentation will create the lift, shape, and size you envision.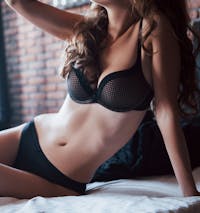 Why choose North Shore Cosmetic Surgery for a breast lift?
If you are planning to undergo a breast lift, you want your results to look natural, round, and perky, and restore your self-confidence. Imagine feeling confident in low-cut tops, swimsuits, or bras. The skills of your plastic surgeon have everything to do with the outcome of your surgery, and when under the care of our board-certified plastic surgeons, you can trust that your results will be fresh and beautiful.
Dr. Romanelli is a leading Long Island breast surgeon and serves as Chief of Staff at Huntington Hospital-Northwell Health. He is an Assistant Clinical Professor of Surgery at the Zucker School of Medicine at Hofstra-Northwell. He has extraordinary skills, is a respected educator, and is well-known for surgical excellence.
Dr. Yee Cheng Low is a double-board-certified plastic surgeon specializing in both aesthetic and reconstructive surgery on the face, breast, and body in the Long Island and New York City areas. As a physician and an artist, he utilizes different surgical and nonsurgical techniques to help his patients achieve the optimal desired result.
Dr. John Layliev is an award-winning, double-board certified plastic surgeon with extensive experience in these delicate breast-reshaping surgeries, and is committed to providing an unparalleled level of personal service and care.
What is the surgery?
A breast lift takes approximately two hours or more and is performed under general anesthesia. The timing for this procedure will reflect the complexity of the surgery needed, which varies. The surgical technique can include an incision placed around the areola, an incision around the areola and extending to the natural breast fold, or an additional incision within the breast crease.
The choice of incision depends on the laxity of the breast tissue and skin and nipple position. After placing the incision, loose skin is removed, and the tissues reshaped, with the nipple position raised. Our surgeons will review with you which technique will best most beautifully enhance the appearance of your breasts.
What to expect
from breast lift surgery
The recovery from breast lift surgery is more extensive than after a breast augmentation. After the procedure, you will wear a medical compression bra to diminish swelling. Also, a small drain is inserted near the incision site to limit swelling, which is removed within a few days. After surgery, the swelling fades, usually within one week. We provide detailed aftercare instructions to help you speed the healing process. Aesthetic results after a surgical breast lift are noticeable after a few weeks as your newly-reshaped breasts settle into the higher position on your chest wall. Your breasts will look perkier, round, youthful, and natural.
Breast Lift Reviews
4.9 Star Rating out of 0 Reviews
Breast Lift - Dr. Romanelli and his staff are wonderful and professional made us feel very comfortable right from the start!
Breast Lift - Dr. Romanelli has such a kind, soft way about him. Very patient in describing what the procedure will be like and extreme bedside manner. His smil...
Breast Lift - Super nice and friendly staff. Very clean office space!
Breast Lift - I felt that Dr. Romanelli really listened to all my concerns and gave me very detailed answers to all my questions. I felt very comfortable with h...
Breast Lift - I was so pleased with the staff as well as Dr. Romanelli himself. They were constantly pleasant and helpful. I would undoubtedly recommend this of...
Get beautiful breasts with a custom breast lift
Mastopexy has changed the lives of countless women who were embarrassed by the drooping and sagging of their breasts. If you are ready to have more youthful, perky, round breasts, a breast lift in Long Island may be the answer. At the time of your initial visit, a thorough examination will be performed, and your aesthetic concerns discussed. We will craft a custom-tailored treatment plan to transform your breasts. Please contact North Shore Cosmetic Surgery and speak with our friendly patient coordinator to begin your cosmetic surgery journey.