Breast Implant Removal in Melville, NY
Sometimes after undergoing breast augmentation to enhance the size and contour of their breasts, women choose to get them removed. At North Shore Cosmetic Surgery in Melville, NY, plastic surgeons Dr. John Layliev, Dr. Yee Cheng Low, and Dr. James Romanelli meet with patients who want to remove or replace their breast implants.
In some cases, a breast lift might be required with implant removal. The need for this added procedure will reflect the degree to which your skin has stretched. A breast lift can help minimize sagging or excess skin, which could remain after implant removal.
If you're attempting to return to your previous breast size, implant removal surgery, along with a breast lift, can produce excellent results in restoring the original appearance of your breasts.
Breast implant illness
In certain instances, some women choose to have their breast implants removed due to symptoms of breast implant illness. Conditions resulting from breast implant illness seem to affect the body's ability to fight infections. They may include autoimmune diseases (such as rheumatoid arthritis and Sjögren's Syndrome) and breast implant-associated anaplastic large cell lymphoma (BIA-ALCL). BIA-ALCL is not a type of cancer that occurs within breast tissue, but rather, it is a cancer of the lymphatic (immune) system.
While the risk and occurrence of breast implant-related illness remain low, our caring team understands these concerns will help you determine if implant removal is required. If you do not suffer any symptoms and your implants are fine, there is little reason for concern – but that is your decision.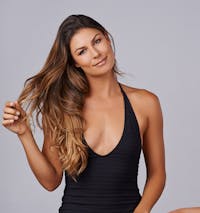 Why choose North Shore Cosmetic
Surgery for breast implant removal?
At North Shore Cosmetic Surgery in Melville, NY, your breast implant removal procedure will be performed by a highly-skilled, board-certified plastic surgeon. We are proud to be known as the ideal clinic for discerning people throughout Long Island and to be recognized for our outstanding surgical work. Dr. Romanelli is a leading plastic surgeon and serves as Chief of Staff at Huntington Hospital-Northwell Health.
He is an Assistant Clinical Professor of Surgery at the Zucker School of Medicine at Hofstra-Northwell, and a respected educator, well-known throughout the medical community. Dr. John Layliev is an award-winning, double-board certified plastic surgeon, and he is exceptionally well-versed in the latest techniques and technologies and dedicated to providing an unparalleled level of personal service and care.
Dr. Yee Cheng Low is a double-board-certified surgeon passionate about research and teaching. Dr. Low is originally from Malaysia and is fluent in Mandarin, Cantonese, and Malay. His roots give him a different perspective on the concept of beauty, and he aims to deliver to his patients a beautiful and natural result.
Breast Implant Removal Reviews
4.9 Star Rating out of 0 Reviews
Breast Implant Removal - Dr. Romanelli is a highly skilled surgeon practicing in a clean, safe and friendly environment. I have referred several satified friend...
Breast Implant Removal - The doctor was thorough, took his time and was very professional. I will be using him for my replacement breast augmentation. The offic...
Breast Implant Removal - Dr. Romanelli made me very comfortable he is extremely likable, great bedside manor. I wish I could afford to do my explant with lift a...
Breast Implant Removal - Compassion
Breast Implant Removal - I originally had breast implant surgery by Dr Romanelli 5 years ago. The surgery and the result were wonderful but I just did not like ...
Ideal candidates for breast implant removal
Implant removal surgery can repair a range of issues experienced after breast augmentation, such as scar tissue (capsular contracture), breast implant-associated illness, implant malfunction, and unhappiness with the new breast implants. Sometimes, women might simply prefer their original breast size and choose to remove the implants without replacement.
Whatever the reason, breast implant removal will allow you to alter your breasts to restore a natural, desirable aesthetic look. Before your surgery, we will talk with you regarding the look you envision for your breasts and discuss the best approach to achieve your goals.
Surgical technique for breast implant removal
During your breast implant removal surgery, the implants are removed, and scar tissue may need to be excised. Scar tissue develops naturally after breast augmentation and will require removal if it's affecting the form of your breast or causing discomfort. After the implants are removed, we can perform a fat transfer, breast lift, or both, to achieve your desired breast size and shape. There are several options to replace volume following an implant removal to enhance the shape of your breast.
What to expect from breast implant removal
The recovery period will vary for every individual, depending on the extent of the procedure. After the process, we will provide aftercare instructions and offer advice on treatments to help reduce scarring. For the first couple of weeks, you will have some swelling and bruising and should restrict strenuous exercise until given clearance by your surgeon. You are encouraged to be generally mobile and active. Optimal results can usually be achieved at about four months following the operation.
Restore your natural look with breast implant removal
Several situations could cause you to be dissatisfied with your current breast implants, from appearance to breast implant-related illnesses. Whether they're the wrong shape, size, or texture, or if you have other concerns, North Shore Cosmetic Surgery can help you get the look you desire with breast implant removal. During your private consultation, we will discuss all your choices to restore the appearance and feel of your breasts. To learn more, call North Shore Cosmetic Surgery at your earliest convenience.