Chemical Peels in Long Island
At North Shore Cosmetic Surgery, our award-winning team offers chemical peel treatments that minimize a wide range of skin conditions, including wrinkles, scars, fine lines, dry patches, hyperpigmentation problems, and more. A high-quality chemical peel will remove the upper layers of damaged, dead skin cells with unique formulations that cause the damaged skin to slough off. As your skin recovers and rejuvenates itself with new, fresh skin cells, you develop a smoother, clearer, refined complexion.
Types of chemical peels
We use only the highest quality chemical peel treatments to provide our patients with stunning, transformative results. We offer several chemical peel formulations, including salicylic, glycolic, trichloroacetic, and lactic acids, all of which help restore smoother, healthier facial skin. Our chemical peels come in three strengths to accommodate your needs and goals:
Light peels
A light peel can be performed during your lunch hour, after which you can go right back to your daily routine. Light peels remove the outer layer of your skin, called the epidermis, which helps restore a more radiant appearance and smoother skin texture. We recommend that you schedule a light peel at least once each month to maintain ideal, glowing results.
Medium-depth peels
These peels reach deeper into your skin for enhanced benefits, but you may want to have this type of peel over an extended weekend to give yourself time to recover. You can expect a higher level of discomfort during the treatment for about one hour after treatment. Medium-depth peels are for patients who have more significant damage to their skin, such as deep wrinkles and areas of dark pigmentation.
Deep peels
The strongest type of peel is a deep peel, as it reaches the lower levels of your skin. It offers the most significant improvements, but it also requires the most prolonged recovery period. A deep peel is an aggressive procedure that will likely leave your face itchy, swollen, and peeling for a few weeks – but the results are dramatic. Patients who choose to undergo a deep chemical peel suffer from significant skin issues, such as age spots, sun damage, and deep scars. For comfort, a deep peel may require an anesthetic.
Am I a candidate
for a chemical peel?
The ideal candidates for a chemical are women and men who desire significant improvement in their skin quality and the reduction of visible skin defects, such as:
Wrinkles
Fine lines
Sun spots
Acne scars
Trauma scars
Flaky skin
Hyperpigmentation
Seeking the advice of a skin specialist at North Shore Cosmetic Surgery is the first step in the journey to smoother, healthier skin. We will evaluate your skin during a comprehensive examination in our Melville office, at which point we determine which type of peel is best suited to meet your needs and goals.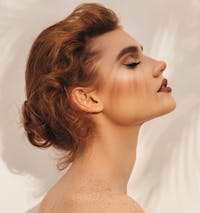 Why choose North Shore Cosmetic Surgery for a chemical peel?
If you are looking to achieve brighter, healthier, and smoother skin with a chemical peel, there is no better choice than North Shore Cosmetic Surgery. Our world-class team of surgeons and medical providers have decades of experience helping patients accomplish stunning results, restoring self-confidence, and enhancing the quality of life. Unlike smaller practices, we provide an extensive range of surgical and nonsurgical treatments.
Chemical Peels Reviews
4.9 Star Rating out of 0 Reviews
The results were great. Staff was excellent. Highly professional.
Everyone in the office was very pleasant. They put me at ease. All of my questions were answered.
Nothing short of amazing!!!!! Highly recommend.
Dr. Romanelli and his entire staff (including Huntington Hospital) were very knowledgeable and responsive throughout the entire process from consultation to pos...
The staff was professional. Dr. Romanelli is so confident and reassuring. Dr. Russo is pleasant and made me feel at ease. The RN and the rest of staff were very...
The chemical peel experience
On the day of your appointment at North Shore Cosmetic Surgery, you will be seated in a comfortable position so we can perform your peel. We will begin by cleaning your skin in preparation for your peel, removing dirt, oils, and any other contaminants. We will then brush the solution onto your skin and allow it to work for a specified length of time, as determined during your initial consultation. Once the treatment has been completed, we will clean the solution off your skin and apply a neutralizing agent. We recommend that you bring sunscreen and a hat to wear outside after the treatment to avoid sun exposure.
What to expect
after your chemical peel
Depending on which chemical peel you receive, you should expect your skin to peel and itch for a few days or as long as several weeks. We will give you detailed aftercare instructions, but you must be patient and avoid touching or peeling the skin yourself, as doing so may cause scarring and adversely affect your results.
Great skin starts
with a chemical peel.
If you are new to facial rejuvenation treatments, our team at North Shore Cosmetic Surgery can help you find the perfect solution for your skin. We will take the time to examine your skin, understand your aesthetic goals, and help you restore healthier, more vibrant skin that meets or exceeds your expectations. Your freshly rejuvenated skin will look radiant and touchably soft. Contact our office in Long Island to schedule your personalized skin assessment today.