Gynecomastia Surgery in Melville, NY
Gynecomastia is a scientific term that refers to enlarged breast tissue in men. It causes a distinctly feminine look that can reduce a man's self-confidence and quality of life. In many cases, gynecomastia is caused by a hormonal imbalance but can develop from taking specific drugs, steroids, due to major weight gain or loss, or be a hereditary tendency.
Men who suffer from gynecomastia may feel embarrassed and anxious, unwilling to go shirtless at the pool, beach, or gym, and wear loose clothing to hide the condition. Renowned NY plastic surgeons Drs. James Romanelli, Yee Cheng Low, and John Layliev perform cosmetic gynecomastia surgery to treat this condition and surgically remove the excess tissue.
This procedure has a very high success rate and results in men who enjoy a more masculine appearance and a significant boost in confidence and self-esteem. It is one of the most popular surgeries for men at North Shore Cosmetic Surgery in Melville, NY.
Am I a candidate
for gynecomastia surgery?
Gynecomastia surgery is ideal for men who suffer from visible excess breast tissue that does not respond to diet and exercise. If you are at a healthy weight but are still troubled by the look of your chest, you may be a good candidate and benefit from gynecomastia surgery. Future weight gain or tissue regrowth after surgery may require a secondary procedure some years down the road, but this is uncommon in men who maintain a stable, healthy weight. In your initial consultation, we will provide you with treatment options, including surgically removing the excess tissue.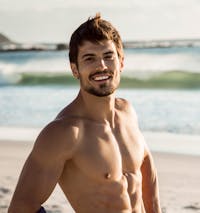 North Shore Cosmetic Surgery –
a leader in gynecomastia surgery
Dr. James Romanelli, Dr. Yee Cheng Low, and Dr. John Layliev are award-winning board-certified plastic surgeons with a combined 30 years of expertise and hands-on experience. Their talent and innate artistry allow them to produce exceptional results, and firm, sculpted, distinctly male chest. They are well-versed in the latest and most advanced techniques and dedicated to providing individualized care to achieve their unique aesthetic goals. If you suffer from an excess of male breast tissue, your treatment will be performed by a leading, board-certified plastic surgeon with a reputation for excellence.
The gynecomastia surgery technique
Your gynecomastia surgery will be performed under general anesthesia and will involve one (or both) of the following techniques:
Liposuction
Most gynecomastia surgeries involve fat removal with liposuction. For most men, the excess tissue is almost entirely fat – so liposuction alone can achieve ideal results.
Surgical tissue excision
In some cases, there is actual breast tissue that must be surgically excised to achieve a masculine chest appearance. If needed, we will make a small, well-hidden incision that allows us to access and remove the unwanted tissue.
Fat removal is almost always part of our custom gynecomastia surgery. Performed with general anesthesia, liposuction removes the excess fat from the internal chest region. Excess glandular tissue is then removed, loose skin tightened, and the nipples surgically reshaped and placed in the ideal, natural position. Your incisions will then be closed and wrapped with a compression bandage to reduce swelling and keep the tissue positioned properly for healing.
Recovering from
gynecomastia surgery
Recovering from gynecomastia surgery is generally considered reasonably easy to experience, and you will have pain medication to manage any discomfort. After gynecomastia surgery, your chest will be protected with a surgical compression bandage to limit swelling. For complex cases that involved more surgical correction, a small tube drainage tube may be inserted to reduce swelling.
Your results
The changes in your chest appearance after gynecomastia treatment are visible immediately, and our patients are incredibly pleased with the results. The incisions made during this procedure take a few weeks to heal, and the surgical scars fade to being almost invisible. Living life with a sculpted, masculine chest brings enhanced confidence, self-esteem, and freedom to go to the beach or pool without embarrassment.
Gynecomastia Reviews
4.9 Star Rating out of 0 Reviews
I felt that Dr. Romanelli was honest and professional with a pleasant demeanor.
I was so pleased with the staff as well as Dr. Romanelli himself. They were constantly pleasant and helpful. I would undoubtedly recommend this office to anyone...
Dr. Romanelli and His Staff Are Excellent. - Dr. Romanelli did an excellent job. He is kind, funny, and took the time to explain everything.
Loved the whole staff!! They were informative, caring, professional & kind. Feel better about myself
All of the staff members were very nice, professional, patient and informative.
A firm, fit, masculine chest with gynecomastia surgery
If you are frustrated with an excess of breast tissue (gynecomastia), we invite you to contact our office and schedule a consultation to find out about male breast reduction in Long Island at North Shore Cosmetic Surgery. We have countless men to live life with greater confidence and self-assurance. We enjoy helping men achieve a masculine, defined chest, and seeing the relief and restored confidence they experience. Don't put off treatment any longer – call our front desk today to schedule a private consultation with us.