Managing Loose Skin in the Thigh Area
Achieving weight loss is a genuine triumph. Based on the length of time you were overweight, and the amount of weight you lost, hanging skin can be a fresh concern when the skin was unable to adapt to the smaller shape and size of your body. The thighs, specifically, are a trouble area for many people.
Our Long Island plastic surgeons Dr. James Romanelli, Dr. John Layliev, and Dr. Yee Cheng Low offer surgical thigh lifts (medically termed a "thighplasty") at North Shore Cosmetic Surgery in Melville, NY. This procedure trims away excess skin on the inner thighs to create a tighter, more contoured appearance.
This surgery has increased in popularity since it can give natural-looking results for anyone struggling with excess loose skin and tissue that adversely affects the comfort and the appearance of your thighs.
Who is a candidate for thigh lift surgery?
Thighplasty is a skin tightening procedure for those who have lost a dramatic quantity of weight. A thigh lift is often a post-weight loss procedure. Thigh lift surgery may be necessary if you have lost 100 pounds or more or may be appropriate for older patients who developed loose skin caused by natural aging, or for women with weight changes after pregnancy and childbirth. If you have wrinkled, loose, or hanging skin on your upper thighs (whether outer or inner thighs or both), this surgery can be a good option. Please keep in mind that if cellulite is the primary concern, we can recommend different treatments that can help smooth the look of cellulite.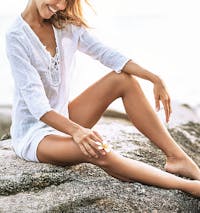 Why choose North Shore
Cosmetic Surgery for a thigh lift?
The decision to correct the appearance of your thighs with surgery is not lightly made. You want to achieve the most attractive outcome possible, and when under the care of our talented, dedicated plastic surgeons, your surgery will be performed by a highly-accomplished surgeon who is respected throughout the medical community. We offer concierge-level personal service and are the chosen center for discerning patients in Long Island.
Thigh Lift Reviews
4.9 Star Rating out of 0 Reviews
Saddle Bags and Chubby Thighs - Dr. Layliev (in Nashville at the time) performed liposuction to my inner/outer thighs and "love handle" region. He was extremely...
Excellent experience and beyond happy!! - There isn't enough space to explain all the positive interactions I had with Dr. Romanelli and his staff. The level of...
Thigh Lift - Dr Romanelli and his entire staff are kind and understanding. I have had several procedures at his practice. Dr Romanelli's facility and expertise ...
Thigh Lift - Dr Romanelli and his entire staff are professional and kind. They are all attentive to the patients needs prior to and after surgery. This is a top...
I am three weeks postop and I couldn't be happier with my decision to use Dr. Romanelli! The care I received from Dr. Romanelli and staff was amazing. I got a t...
The North Shore Cosmetic Surgery difference
At North Shore Plastic Surgery, you can expect:
Dr. James Romanelli, Dr. John Layliev, and Dr. Yee Cheng Low are a team of plastic surgeons who have achieved widespread respect from their peers and patients.
Our three double-board-certified plastic surgeons bring over 30 years of expertise and hands-on experience to thigh lift surgery. Our mission is to provide individualized care and achieve a genuinely beautiful transformation.
Dr. Romanelli serves as Chief of Staff at Huntington Hospital-Northwell Health and an Assistant Clinical Professor of Surgery at the Zucker School of Medicine at Hofstra-Northwell and is a respected educator.
Dr. John

Layliev

is an award-winning, double-board certified plastic surgeon.

Dr. Yee Cheng Low specializes in aesthetic and reconstructive surgery for the face, breasts, and body with a different perspective on the concept of beauty.
What is the thigh lift procedure?
In thigh lift surgery, general anesthesia is usually administered for your comfort. A surgical incision is placed close to the top of the leg at the natural fold where the thigh meets the torso. The incision typically extends along to the midway section of the thigh. This incision permits enough space to perform surgical liposuction (when needed) to remove stubborn pockets of fat and to trim any excess skin at the top of the thigh area. The skin is then stretched upward to be tightened and secured with sutures. In some patients, an additional incision may be placed beneath the butt or in the outer thigh area, based on the quantity of skin and tissue to be addressed. Thigh lift surgery in Long Island at North Shore Cosmetic Surgery will correct the entire thigh area, for a tighter, shapelier, more contoured look.
What to expect in recovery after a thigh lift
Thighplasty takes about two to three hours to perform. Once the procedure is completed, you will be monitored and assessed before you are allowed to go home to recover. There is often bruising, swelling, and discomfort associated with the immediate recovery period. In several days, most patients can get up and slowly walk around, which is necessary for circulation and healthy healing. The overall recovery time usually lasts for about six to eight weeks. During this time, following your aftercare instructions will help your incisions to heal properly. Although you will have some scarring, the improved contour and shape of your legs will help you regain your self-confidence and reveal your thighs with confidence.
Get tighter, toned thighs with thigh lift surgery
If you have sagging skin on your thighs, it can create embarrassment or anxiety when you reveal your upper legs. We encourage you to contact North Shore Cosmetic Surgery in Melville, NY, to find out more about thigh lift surgery. It is common for patients to combine a thigh lift surgery with one or more body contouring surgeries, particularly ones that address nearby areas such as abdominoplasty or a lift for the lower body, based on your specific desires. Schedule your appointment with us to get the tighter look that brings you greater confidence in your body.