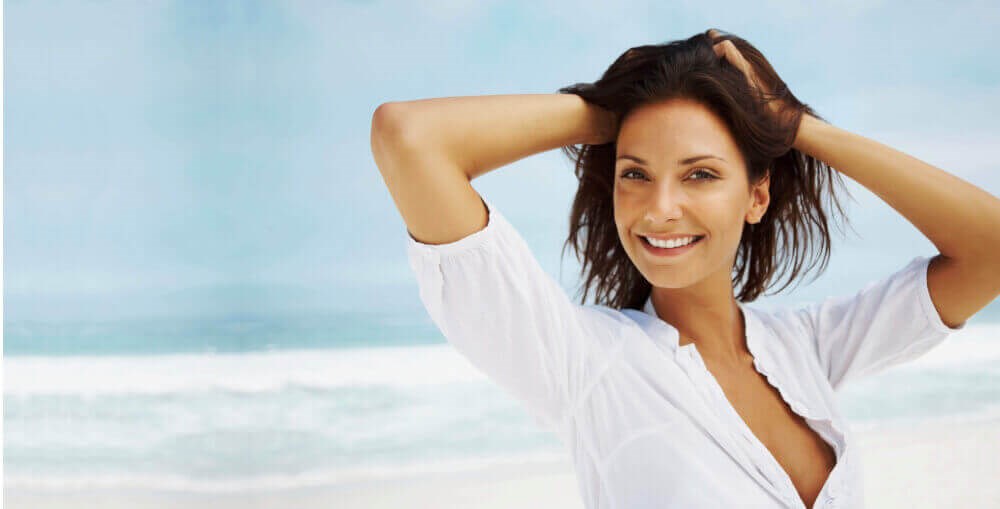 I'm Over 40 and Considering Breast Augmentation. Am I Too Old For This?
If you are in your 40s, you may be wondering whether you've missed the window of opportunity to experience the benefits of breast augmentation. For most women, the answer to this question is no. In fact, the procedure is extremely popular among those who are done having children and are eager to restore the pre-pregnancy size and shape of their breasts. Others opt for augmentation later in life as a way to achieve the sexy silhouette and improved sense of self-confidence that they've long desired.
The board-certified plastic surgeons at Romanelli Cosmetic Surgery in Huntington, NY assure that mature women in the Long Island area often are excellent candidates for breast augmentation. However, some additional factors may come into play that should be carefully considered. For example, it is paramount to select implants that are properly sized. Augmentation can enhance the appearance of the breasts by creating a more pleasing shape and adding volume that complements the body's overall proportions, which may have changed as part of the natural aging process.
As with any cosmetic surgery, it is important that patients in Long Island are able to set realistic expectations for breast augmentation and their potential results. In some instances, this may be easier for women with extensive life experiences to accomplish than their younger counterparts. With their families complete and careers well established, most women find their 40s to be an ideal time to undergo breast augmentation.
It's mommy-- just made over
It's no secret that pregnancy and breastfeeding can wreak havoc on the bustline, altering its size, shape, and symmetry. With this stage of life in the rearview mirror, women can feel confident knowing that the results of their augmentation likely will not be negatively impacted in the future or require a second procedure to correct pregnancy-related issues such as sagging or misshapen breasts.
Lift yourself up
Although implants can increase the size of the breasts, the devices cannot improve the appearance of sagging breasts that may have resulted from pregnancy or as part of the aging process. Also, because tissue thins and loses its elasticity as the years progress, the breasts may not be able to adequately support the increased volume of the implant. This is why it is common for a breast lift procedure to be performed in conjunction with augmentation. Besides working to achieve better positioning on the body for women in Long Island, the board-certified plastic surgeons at Romanelli Cosmetic Surgery are also able to remove excess skin and reshape the tissue on the breast as well as around the implants to craft more natural-looking results. Although this procedure may result in some additional scarring on the breasts, most patients find the tradeoff worth it given the dramatic improvements that can be achieved.
Recovery time
Despite being a frequently performed procedure, it is important to remember that breast augmentation is considered major surgery. As such, it typically requires a significant recovery period. With limitations placed on certain upper body movements following surgery, some patients may require assistance from others in order to perform daily tasks. They also may need to take an extended absence from work in order to heal properly and completely. Securing that kind of downtime can be easier said than done in your 20s and 30s, when you may work multiple jobs or tote around toddler-aged children. Once entrenched in their careers, with plenty of vacation days or sick time accrued, and with older children who may be able to lend a hand, many Long Island women in their 40s find that they are in a better position to slow down and focus on making their recovery from breast augmentation a priority.
Financial costs
For some, the financial stability that can be enjoyed later in life may serve as the motivation they need to move forward with breast augmentation. Surgery costs can be significant. Beyond budgeting for the procedure itself, patients in Long Island should take into account any lost wages that may result from time off work, as well as costs associated with hiring household help, paying for ride services, and ordering meals in as you recover. Healthcare costs also may come into play following breast augmentation. Women who receive silicone implants should have regularly scheduled MRIs following augmentation to check the status of their devices. In the event of a rupture, surgery will be required in order to remove the implant.
Mammogram concerns
Since women over age 40 are advised to undergo routine screening mammograms to check for breast cancer, it is common for patients to wonder whether their implants will interfere with obtaining accurate results. In most cases, the board-certified plastic surgeons at Romanelli Cosmetic Surgery are able to place implants behind the chest muscles, which not only provides the best aesthetic results but also makes the devices less likely to impact screening results. It is important to advise the radiologist who performs the mammogram in advance that you have implants, as this may require additional images to be taken. Another concern among Long Island women who undergo breast augmentation is that their implants may rupture under the squeezing and pressure of the breast that is associated with mammograms. When high-quality, FDA approved silicone or saline implants are used, this is unlikely to occur.
A new-and-improved you
For most patients, the primary reason to undergo breast augmentation is so that they may feel more comfortable and confident about their appearance. Whether they've long been displeased with the size of their breasts or wish to restore youthful fullness to their bustline, the results of this procedure can be life changing. As the saying goes, age is just a number. There is no timeline for looking and feeling your best. If you're in the Long Island area, schedule an appointment today with the board-certified plastic surgeons at Romanelli Cosmetic Surgery in Huntington, NY to learn more about the benefits of breast augmentation.