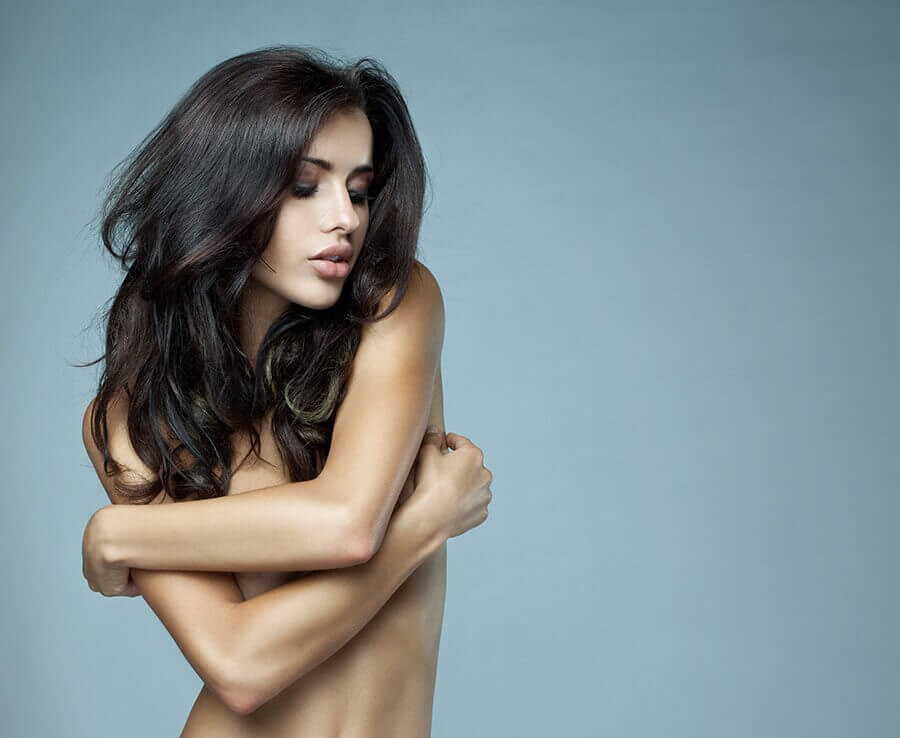 Correcting Asymmetrical Breasts in Long Island, NY
When you look at your breasts in the mirror, you may think you are seeing an optical illusion if they appear to be uneven. But breast asymmetry is an extremely common condition that many women may not even notice at first glance. But for some women whose breasts vary significantly in size, shape, or position, it can become a source of insecurity. Finding bras and bathing suits that fit correctly can be a time-consuming issue, and some women may be hesitant to wear tight-fitting tops that highlight this unwanted feature. If you are dealing with uneven, asymmetrical breasts, the surgeons at Romanelli Cosmetic Surgery can help.
Long Island women with severe cases of breast asymmetry may have one breast that is a full cup size larger than the other. Board-certified plastic surgeons Dr. James Romanelli and Dr. John Layliev at Romanelli Cosmetic Surgery in Huntington, NY, can fix this issue with corrective breast surgery. This surgery creates a more balanced effect you will be happy to show off in form-fitting attire. An initial consultation at our facility will formulate the best course of action to remedy the situation. Breast augmentation with implants, fat transfer, a breast lift, or a breast reduction can be employed to create a more balanced appearance. Read below as we detail breast asymmetry and how it can be corrected.
What causes breast asymmetry?
There are several factors that may contribute to breast asymmetry, and it's difficult to pinpoint the exact cause. Most often, genetics seem to be the root cause of this issue. The two different sides of a woman's body can take on an asymmetrical appearance due to hormones or even breastfeeding. Other less likely scenarios include injury or breast cancer, which can contribute to the loss of breast tissue on one side. Regardless of the cause, breast unevenness can have an effect on a woman's self-confidence.
Some studies have shown that women with uneven breasts may have a higher risk of developing breast cancer. A yearly mammogram screening is the safest and most reassuring way to ease your concerns about your breast health.
Correcting asymmetry
There are several different ways the plastic surgeons at Romanelli Cosmetic Surgery in the Long Island area can correct breast asymmetry. The best technique is reliant on the individual's existing breast tissue and the extent of correction needed. Let's take a look at the different methods used by Dr. James Romanelli and Dr. John Layliev to give breasts a more symmetrical appearance.
Breast implants: For patients with a mild case of asymmetry, breast implants can help even out the shape and size of the breasts. The plastic surgeons at Romanelli Cosmetic Surgery achieve balance by configuring the implants so the two breasts are the same size. For those who have nipple and areola differences between the two breasts, in size or location, a reposition and reshape can also be employed for a more proportionate appearance. Patients who have good skin tone and limited sagging can enjoy beautiful results.
During your consultation, it is essential to discuss the correct implant size for your body. Each implant should be carefully matched to the existing chest tissue to achieve similarity in shape and size.
Breast reduction: For some patients with severely asymmetrical breasts, the best course of action is to have the larger breast reduced in size to match the existing smaller one. During this technique, excess breast tissue is removed until the desired size is reached. Sometimes a breast lift is necessary to create a lifted appearance.
Breast lift: Women who have breasts that sag may need a lift to equal the position of the other breast. During this procedure, loose and excess skin is trimmed, then the remaining skin is raised. The results are both more proportionate and youthful-looking.
Fat transfer: This is an excellent alternative for Long Island-area patients who want a size increase without an implant. During this approach, fat is liposuctioned from one area of the body, purified, and then injected directly into the breasts in small increments to ensure a smooth texture. One of the most significant benefits of a fat transfer is that two body areas are treated at once, so you are slimmer in a spot such as your hips or thighs, and fuller in your bust.
Regardless of which technique you deem most appropriate for your body, it is essential to plan for ample recovery time. This outpatient procedure is still considered to be significant surgery, and activity should be limited for the first few days. You may expect to resume a regular routine within 7 – 10 days after your surgery.
Schedule a consultation today
If you are dissatisfied with the unbalanced look of your breasts, Dr. James Romanelli and Dr. John Layliev at Romanelli Cosmetic Surgery in Huntington, NY, can help. Our compassionate staff can understand the toll this condition can take on your self-confidence. If you would like to learn more about these transformative techniques, call Romanelli Cosmetic Surgery today to schedule a consultation. Long Island women love the results, and we are ready to help you.