About PRP Therapy
Our skilled plastic surgeons, Drs. James Romanelli and John Layliev are pleased to offer platelet-rich plasma (PRP) therapy at North Shore Cosmetic Surgery to help rejuvenate your facial appearance. PRP therapy is one of the hottest cosmetic treatments on the aesthetic market currently due to its natural origin and promising results. It uses a patient's very own plasma to stimulate the skin, minimizing the prevalence of fine lines and wrinkles. At our practice, PRP therapy is performed in conjunction with microneedling. If you are interested in PRP therapy, call North Shore Cosmetic Surgery in Huntington, NY to schedule a private consultation. We will be happy to discuss the benefits of PRP as well as what it can do for your skin.
Ideal Candidates
for PRP Therapy
Those with deep wrinkles, volume loss, uneven skin tone, and droopy skin are usually ideal candidates for PRP therapy. Because it promotes collagen production naturally, it's also a great treatment choice if you have tired or dull-looking skin. Talk to one of our plastic surgeons about any skin conditions, blood disorders, or anemia during your consultation to ensure that it's safe for you to undergo PRP therapy.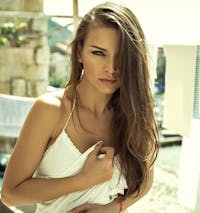 Procedure Technique for PRP Therapy
After you're comfortably seated in one of our secluded minor procedure rooms, a small amount of blood will be drawn from one of your arms and put into a centrifuge machine. In most cases, we draw around four tablespoons or one vile of blood. After approximately 15 minutes on the centrifuge machine, the components of the blood separate, and are then ready to be either injected or applied topically in conjunction with microneedling. Your concentrated plasma will be applied to the designated areas of the face that were isolated during your initial consultation. The PRP procedure typically only takes about 5 minutes, but this will vary with each patient.
PRP Therapy Reviews
Anonymous
Everyone in the office was very pleasant. They put me at ease. All of my questions were answered.
Anonymous
The process went smoothly. I felt comfortable discussing my issues and all my questions were answered during the consultation. Dr. Romanelli and his entire staf...
Anonymous
Great recovery, excellent look, quick and convenient procedure
Anonymous
The office was very professional and yet kind and caring as well. Dr. Romaneili and his staff put me at full ease and answered all my questions.
Anonymous
I felt my questions were answered with sensitivity and care. I left feeling confident that I would get the results I was looking for when I have the surgery.
What to Expect
from PRP Therapy
Plasma from PRP therapy naturally promotes collagen production and elastin to reveal tighter and younger appearing skin. Since it uses your own blood, there is no risk of allergic or adverse reactions. As can be expected, your face may be a little red following treatment as some traces of red blood cells will be included in the treatment. Cold compresses can be used to ease any discomfort and swelling. We recommend you undergo multiple treatments in 4 – 6 week intervals to maintain results.
Glowing Skin
with PRP Therapy
Thanks to PRP treatments, your complexion can look healthier and brighter than ever before producing a glowing, beautiful appearance. This treatment is ideal for those who desire a natural technique for skin rejuvenation that provides gorgeous results. If you are interested in this innovative procedure, call our Huntington, NY office to schedule an appointment with one of our plastic surgeons.