For women and men alike, loose, sagging skin and excess fat in the abdominal region can be embarrassing and frustrating – and almost impossible to resolve. Significant weight loss, childbirth, and aging can lead to a loose, bulging abdomen that no exercise can restore to appear firm, taut, and sculpted.
A tummy tuck, or abdominoplasty, is a body contouring enhancement that transforms the abdominal region. Our skilled Long Island plastic surgeons, Dr. James Romanelli, Dr. John Layliev, and Dr. Andrew Peredo, perform customized tummy tuck surgery to restore a right, firm, and sculpted abdomen. This cosmetic treatment at North Shore Cosmetic Surgery, can help you have a toned, smaller midriff and renew your confidence in your body.
Who is a candidate for a tummy tuck?
A tummy tuck in Long Island can be life-changing for both women and men. If you cannot lose or reduce loose skin in addition to excess fat in the stomach, this surgical treatment can help create a slimmer, toned look. Before undergoing surgery, we recommend you reach a healthy weight. Tummy tuck surgery is not a weight-loss procedure — it surgically corrects loose skin.
A form of liposuction is often incorporated during the procedure to reduce excess fat. If your abdomen has good skin tightness, but you still are not satisfied with your appearance even with a healthy diet, you may be more suited for liposuction. Women interested in abdominoplasty should have completed having children so that the results are not affected by another pregnancy.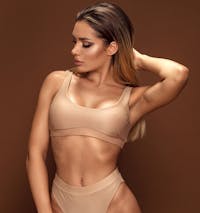 Why choose North Shore
Cosmetic Surgery for a tummy tuck?
You want results that enhance your quality of life, bring you greater confidence, and appear natural. Dr. James Romanelli, Dr. Andrew Peredo, and Dr. John Layliev make up our highly-qualified team of plastic surgeons at North Shore Cosmetic Surgery. Together, they bring over 30 years of expertise and hands-on experience to tummy tuck surgery. Their mission is to provide every patient with individualized care to help transform their aesthetic and confidence.
Dr. Romanelli is a leading plastic surgeon in Long Island and serves as Chief of Staff at Huntington Hospital-Northwell Health. He is an Assistant Clinical Professor of Surgery at the Zucker School of Medicine at Hofstra-Northwell, and a highly-respected member of the medical community. Dr. John Layliev is an award-winning, double-board certified plastic surgeon with impressive surgical skills.
Dr. Peredo has extensive experience in body and facial aesthetic plastic surgery, and takes pride in working closely with his patients to meet their goals.
At North Shore Cosmetic Surgery, you will be under the care of plastic surgeons who are exceptionally well-versed in the latest techniques, and provide an unparalleled level of personal service, providing concierge-style service.
Tummy Tuck Reviews
Anonymous
Tummy Tuck - I can't wait for my surgery and to see my results. I thought Dr. and staff were all wonderful and made me feel very comfortable. The Dr. answered a...
Anonymous
Tummy Tuck - Felt very comfortable.
T.
Tummy Tuck: Highly recommend Dr. Romanelli. Professional, caring and sincere. I love my results, I feel renewed. The entire office staff and nurses made me feel...
A.O.
Amazing! I'm very happy with my results. Tummy Tuck - Mastopexy - Liposuction I feel like a new woman. Thank you Dr. James Romanelli 5 stars
Anonymous
Tummy Tuck - The process went smoothly. I felt comfortable discussing my issues and all my questions were answered during the consultation. Dr. Romanelli and hi...
What is the tummy tuck surgical technique?
Tummy tuck surgery is performed under general anesthesia. There are several methods possible when this surgery is performed, matching the individual's needs. To start, the incision shape and size are selected based upon the excess skin that needs to be excised.
Extended tummy tuck
Some individuals with severe hanging skin might benefit best from an extended tummy tuck. This method makes the incision from hip to hip just on top of the pubic section.
Mini tummy tuck
Some individuals who have minor skin laxity but still feel frustrated by their appearance may be better candidates for a smaller incision. These patients gain great benefits from tummy tuck surgery but will have a smaller scar. Regardless of how it is performed, all abdominoplasty procedures at North Shore Cosmetic Surgery involve the removal of excess loose skin and liposuction.
What is the recovery from a tummy tuck?
After your tummy tuck (abdominoplasty) surgery, you will be carefully examined and sent home wearing a compression garment to decrease swelling. Walking and standing are challenging to accomplish at first, so you should take it easy for a couple of days. Resuming normal movement becomes less painful once the muscles relax, and the incision begins to heal. You should be able to resume your regular activities at about two weeks. Workouts can continue around eight weeks or earlier, when your surgeon gives you permission. Your midsection will feel sore and tight, but once healed, you will feel normal.
A tighter tummy with a custom tummy tuck in Huntington, NY
A variety of life events can result in a sagging stomach, with loose skin and fat. We understand it can be almost impossible to correct — surgery is usually the only way to treat the condition. If you are tired of having the loose skin in your abdominal region, regardless of the severity, skin tightening surgery by our seasoned plastic surgeons in Huntington, NY, can help you look and feel more confident. We invite you to call North Shore Cosmetic Surgery for more information.